I'm going to start providing a bare-bones run down of news on this site, seeing as none of the fansites provide the kind of service I'd like to see any more. I don't expect this to be a big thing, it's more a comfort for myself to collect what comes out, pass comment, etc. As that's the case, no point in advertising. Supernatural seems as good a place to start as any.
The Sims 3 Supernatural Coming In September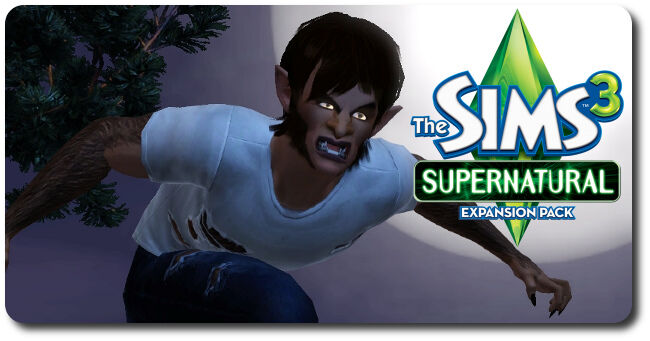 This week has seen a sneaky late night (in the US) announcement for The Sims 3 Supernatural, which, as you might guess from the name, is an occult-themed expansion pack. We're getting a lot of interesting stuff, and considering the release is not until early September, we know a heap about this EP already.
It features werewolves, fairies, witches, and enhanced vampires. You can also get zombies using the new Alchemy skill, although it sounds like these might be temporary effects rather than a fully-blown life state like the others. The new town is called Moonlight Falls, and as a CAW-focused sight we'll be keeping a close eye on it. You can catch a glimpse of this town at the very beginning of the trailer.
Already a great deal from the leaked files in patch 1.32 is confirmed, including fairy houses, beekeeping, candle-making, and a new fortune-telling career. Aside from that, EA has gone into promotional overload, with SimGuruMegan and others answering questions full-throttle on Twitter and the official forums yesterday. One brave user, Pill, has compiled a list of answered questions which is worth checking out:
"
It's awesome to hear that you're all excited about the new demographics options. We're doing our best to get them to address most of the concerns that you guys have voiced in the past. As they're finalized, we'll definitely do a blog or hints or something to explain how they work in detail. In the meantime, I'd rather not go into the functionality in too much detail, but know that it's coming!
"
 

— SimGuruMegan, Assistant Producer,

(source)
Obviously we have a lot to look forward to, and I'll try to keep abreast of news as it comes. News will be labelled a news, reviews as reviews, and commentary as comment. Happy Simming, friends.