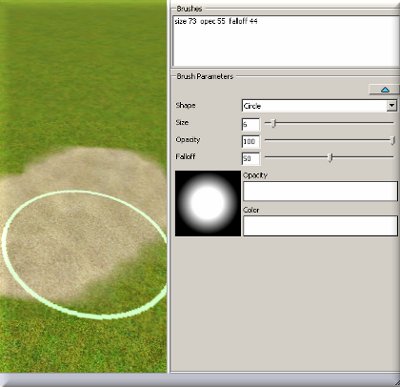 Brushes define the strength and opacity at which textures apply when terrain painting. Brushes also define the shape and strength of terrain sculpting.
See also:

Terrain Painting

 and Terrain Paints
See also:

Terrain Sculpting

 and

Sculpting Tools
Basic
[
]
The Brushes Menu is accessed by clicking the Terrain Painting Tools button on the Utilities toolbar at the top of the main CAW window. By default it is pinned at the base of the right hand window.
Terrain Paint Brushes
[
]
Terrain paint brushes can be either round or square. For terrain painting, brushes have three settings - size, opacity, and fall off.
Sculpting Brushes
[
]
Sculpting brushes vary in shape depending on the settings in the TerrainSculptBrushes folder and its associated terrainsculpt.ini file.
For sculpting, brushes have three settings - size, strength, and fall off.
Advanced
[
]
Creators can add more brushes in the form of monochrome 8-bit TGA files. These must be placed in the directory Documents>Electronic Arts>The Sims Create A World Tool>UserToolData>TerrainSculptBrushes. The settings of the new brush must be added into the terrainsculpt.ini file inside the TerrainSculptBrushes folder.